Penerapan Sanksi Dratikrama (memperkosa) dalam Hukum Hindu dan KUHP
I Wayan Putu Sucana Aryana

Fakultas Hukum Universitas Ngurah Rai
Keywords:
Pemerkosaan, hukum Hindu, hukum pidana Indonesia
Abstract
Abstract
Rape is an act that is prohibited both in Hindu law and in Indonesian criminal law. These acts not only violate the law, but also violate human rights and contain elements of violence. This research will discuss about the application of rape sanctions with a comparative study between comparative arrangements in Hindu law and in the National Law in Indonesia. Viewed from the aspect of Hindu law, witness dratikrama is regulated in the book Sarasamuscaya Sloka 153 and and Article 364 Astamo'dyayah Manava Dharmasastra. Based on this provision, the perpetrator of rape will be punished with direct physical punishment. From the aspect of Indonesian criminal law, rape is regulated in the provisions of Article 285 to Article 290 of the Criminal Code. The penalty for the perpetrator of rape is imprisonment. Rape is prohibited in Hindu law as well as in the Criminal Code, so that whoever commits this act is subject to sanctions in the form of physical punishment or corporal punishment.
Keywords: Rape, in Hindu law and in Indonesian criminal law.
Abstrak
Pemerkosaan adalah tindakan yang dilarang baik dalam hukum Hindu maupun hukum pidana Indonesia. Tindakan tersebut tidak hanya melanggar hukum, tetapi juga melanggar hak asasi manusia dan mengandung unsur kekerasan. Penelitian ini akan membahas tentang penerapan sanksi perkosaan dengan studi banding antara pengaturan komparatif dalam hukum Hindu dan hukum nasional di Indonesia. Dilihat dari aspek hukum Hindu, dratikrama saksi diatur dalam kitab Sarasamuscaya Sloka 153 dan Pasal 364 Astamo'dyayah Manava Dharmasastra. Berdasarkan ketentuan ini, pelaku pemerkosaan akan dihukum dengan hukuman fisik langsung. Dari aspek hukum pidana Indonesia, pemerkosaan diatur dalam ketentuan Pasal 285 hingga Pasal 290 KUHP. Hukuman bagi pelaku pemerkosaan adalah penjara. Pemerkosaan dilarang baik dalam hukum Hindu maupun dalam KUHP, sehingga siapapun yang melakukan perbuatan tersebut dikenakan sanksi berupa hukuman fisik atau hukuman fisik.
Kata kunci: Pemerkosaan, hukum Hindu dan hukum pidana Indonesia.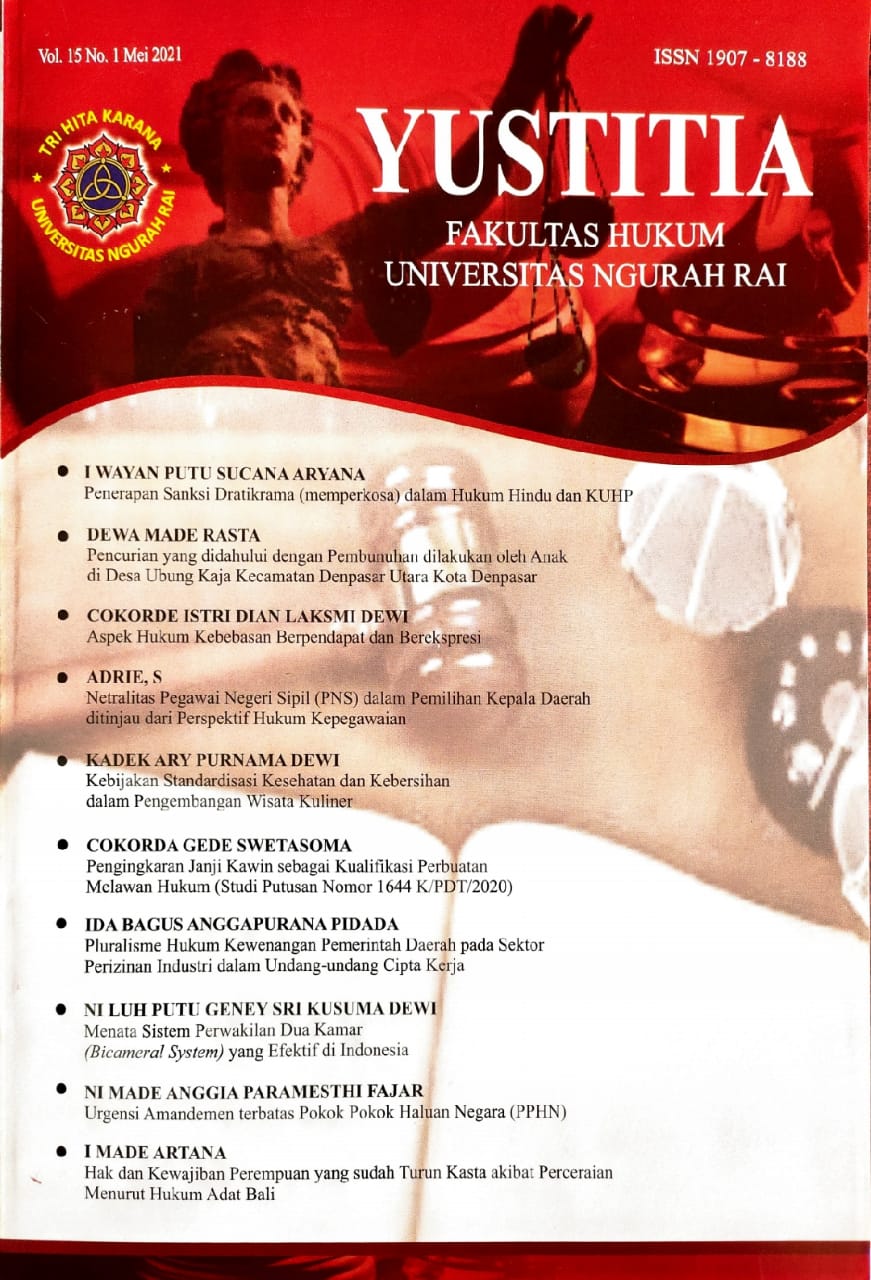 Abstract viewed = 544 times PDF downloaded = 1350 times