PERLINDUNGAN HUKUM TERHADAP TENAGA KERJA YANG ADA HUBUNGAN KELUARGA DI TINJAU DARI DARI UNDANG-UNDANG NOMOR 13 TAHUN 2003
Ida Bagus Martha Teja Agastya

Universitas Pendidikan Nasional Graduate School

Anak Agung Ayu Ngurah Tini Rusmini Gorda

Universitas Pendidikan Nasional
Keywords:
Labor, Company, Marriage
Abstract
Labor in Indonesia is one of the ways for the community to be able to obtain an economy and is an abundant human resource. Practically, the definition of labor and labor is only differentiated by age limits. A financial institution is also a business entity whose main assets are in the form of money and cashable assets such as movable and immovable objects. One form of the financial institution itself is a bank. A bank is a business entity that specifically operates in the financial sector, which is obtained from the owner of the bank and then distributed to the public by providing savings and loans or what is commonly known as credit loans in that way the community can improve their economy and life expectancy. Regarding marriage, in companies, both government and private companies, stipulate a clause that limits the right to enter into marriage between workers working in the company. Termination of employment on the grounds that there is a marriage bond between workers, which has been approved or has been signed at the time of signing the contract agreement before starting to work in a company.
References
1. BUKU

Djulmialdji, F.X. (2005). Perjanjian Kerja. Jakarta : Sinar Grafika

Fahmi, I. (2014). Bank dan Lembaga Keuangan Lainnya Teori dan Aplikasi. Bandung: Alfabeta

Khakim, A. (2003). Pengantar Hukum Ketenagakerjaan Indonesia. Jakarta : Citra Aditya Bakti

Raharjo, S. (2000). Ilmu Hukum. Bandung : PT. Citra Aditya Bakti

Wahyudi, E et. Al. (2016). Hukum Ketenagakerjaan. Jakarta ; Sinar Grafika

2. JURNAL ILMIAH

Adityawarman, Sanim, Sinaga. (2015). Pengaruh Beban Kerja terhadap Kinerja Karyawan. Jurnal Manajemen dan Organisasi. Bogor: Institut Pertanian Bogor. Vol VI, No 1, April 2015

Subijanto. (2011). Peran Negara Dalam Hubungan Tenaga Kerja Indonesia. Jurnal Pendidikan Dan Kebudayaan. vol 17 no 6





3. ARTIKEL INTERNET

https://www.hukumonline.com/klinik/detail/ulasan/lt5b9a231d47985/jika-larangan-menikahi-teman-sekantor-dituangkan-di-perjanjian-kerja/

4. PERATURAN PERUNDANG-UNDANGAN

Undang-Undang Republik Indonesia Nomor 13 Tahun 2003 tentang Ketenagakerjaan, Lembar Negara Republik Indonesia Tahun 2003 Nomor 39

Keputusan Menteri Pekerja dan Transmigrasi Nomor: KEP-48/MEN/IV/2004

Republik Indonesia, Undang-undang No. 13 Tahun 2003 Tentang Ketenagakerjaan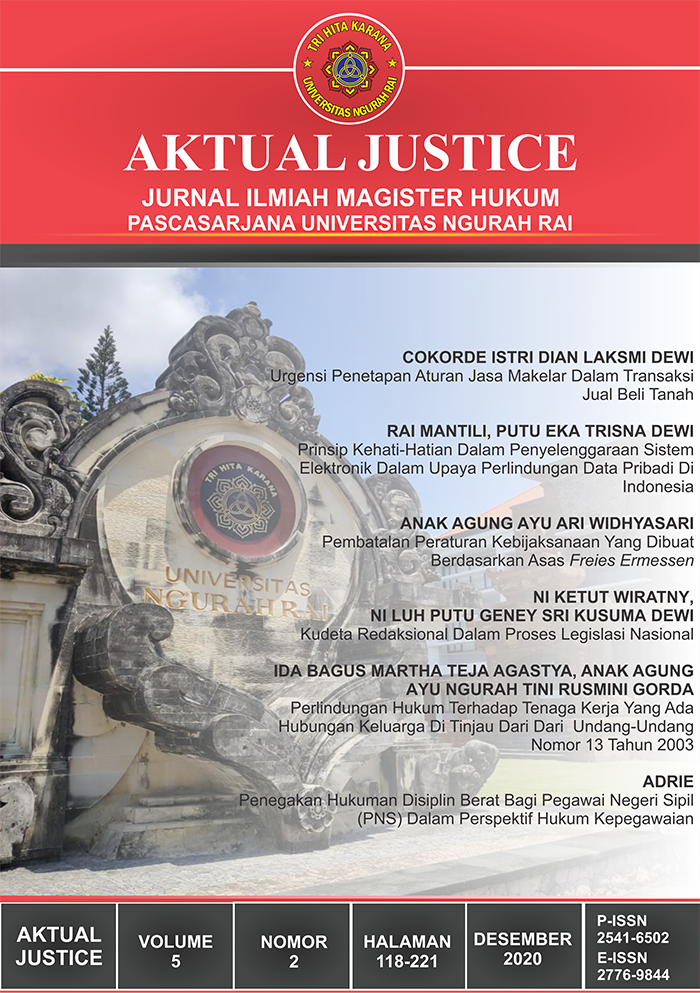 Authors whose manuscript is published will approve the following provisions:
The right to publication of all journal material published on the AKTUAL JUSTICE journal website is held by the editorial board with the author's knowledge (moral rights remain the property of the author).

The formal legal provisions for access to digital articles of this electronic journal are subject to the terms of the Creative Commons Attribution-ShareAlike (CC BY-SA) license, which means Jurnal of AKTUAL JUSTICE reserves the right to store, modify the format, administer in the database, maintain and publish articles without requesting permission from the Author as long as it keeps the Author's name as the owner of Copyright.

Printed and electronically published manuscripts are open access for educational, research, and library purposes. In addition to these objectives, the editorial board shall not be liable for violations of copyright law.

Abstract viewed = 76 times

downloaded = 79 times