TOTEM SESOLAHAN BARONG SAMPI PADA UPACARA PIODALAN DI PURA PERESANAK DALEM TANJUNG DESA ADAT BUALU KECAMATAN KUTA SELATAN KABUPATEN BADUNG
I Made Dwi Krisnayana Putra

Universitas Teknologi Indonesia
Keywords:
Sesolahan, Barong Sampi, Hindus Ceremony
Abstract
Various types of art exhibited in the implementation of religious ceremonies can thrill the soul, taste and sradha in order to increase the form of the person's devotion to the God (Ida Sang Hyang Widhi). Dancing sacred dance is a media offering and worship to God so that He is pleased to provide protection to His people. Barong is a sacred art whose presence is identical with the religious rituals of Hindus. There are various types of Barong that we can meet in Bali, one of them is Barong Sampi. This Barong is classified as rare, only owned by several regions in Bali. Barong Sampi is a sacred art belonging to the category of guardian dance. Because seen from its function as a supporting in the Hindus ceremony (Dewa Yadnya). The performance of  Barong Sampi in Peresanak Dalem Tanjung Temple, which is precisely located in Bualu Village, South Kuta District, Badung Regency. This research is in the form of qualitative design whose data is recorded descriptively. Data was collected by using observation techniques, interview techniques, and literature studies. After the data was collected, the data was analyzed by data reduction, presentation and conclusion or verificationsprotocol program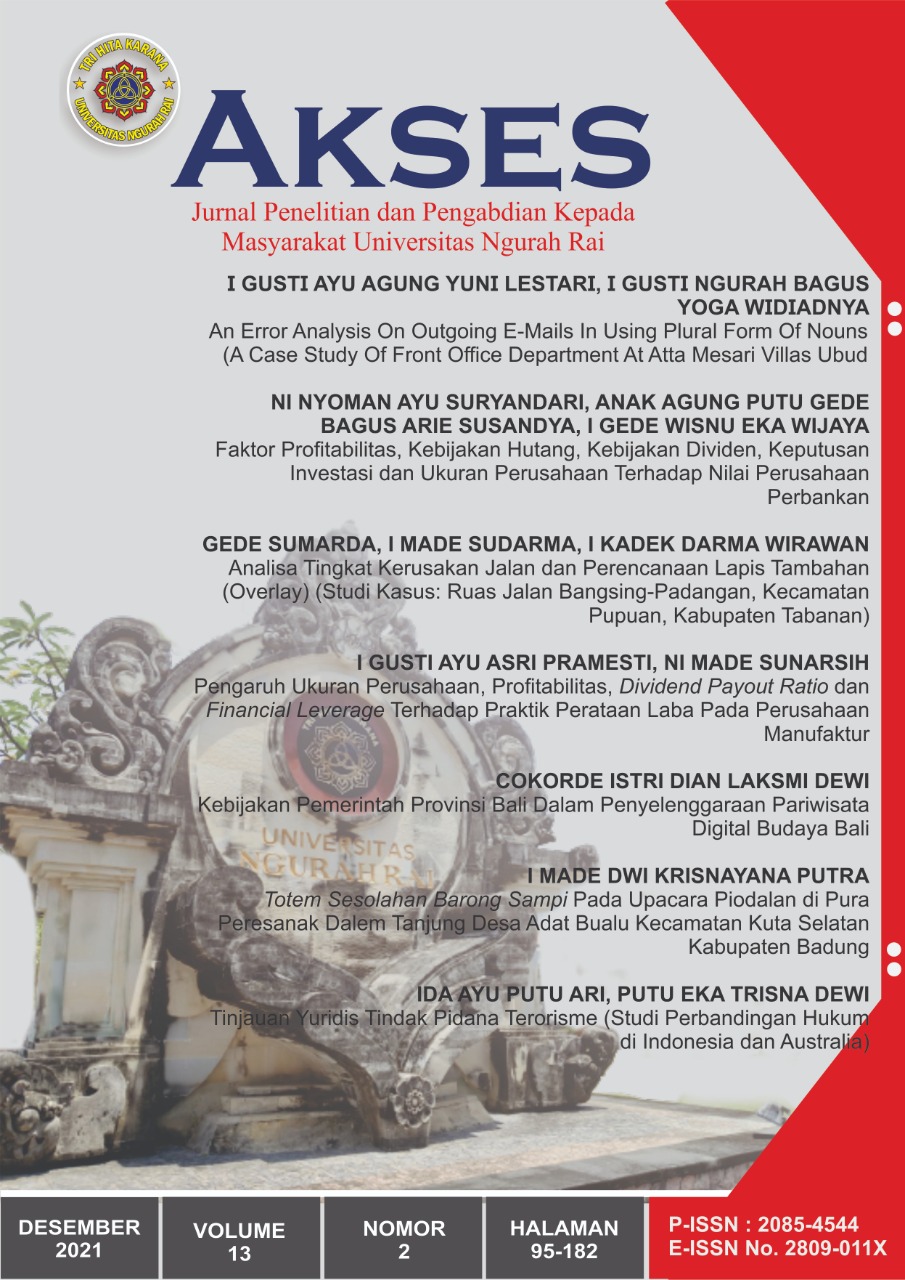 Copyright (c) 2021 I Made Dwi Krisnayana Putra
This work is licensed under a Creative Commons Attribution-NonCommercial 4.0 International License.
Authors whose manuscript is published will approve the following provisions:
The right to publication of all journal material published on the AKSES journal website is held by the editorial board with the author's knowledge (moral rights remain the property of the author).

The formal legal provisions for access to digital articles of this electronic journal are subject to the terms of the Creative Commons Attribution-ShareAlike (CC BY-SA) license, which means Jurnal of AKSES reserves the right to store, modify the format, administer in the database, maintain and publish articles without requesting permission from the Author as long as it keeps the Author's name as the owner of Copyright.

Printed and electronically published manuscripts are open access for educational, research, and library purposes. In addition to these objectives, the editorial board shall not be liable for violations of copyright law.
Abstract viewed = 91 times TOTEM SESOLAHAN BARONG SAMPI PADA UPACARA PIODALAN DI PURA PERESANAK DALEM TANJUNG DESA ADAT BUALU KECAMATAN KUTA SELATAN KABUPATEN BADUNG downloaded = 105 times