KEBERADAAN PERJANJIAN PENGASUHAN ANAK DALAM PROSES PERCERAIAN DI PENGADILAN SEBAGAI PERTIMBANGAN MENETAPKAN HAK ASUH ANAK
I Wayan Agus Vijayantera

Universitas Mahasaraswati Denpasar
Keywords:
Divorce, child care agreement, statement letter
Abstract
Divorce proceedings in Court as found in Decision Number 122 / Pdt.G / 2017 / PN Dps and Decision Number 334 / Pdt.G / 2016 / PN Dps, in order to avoid child custody matters are made in the agreement letter and submitted to the Court so that it can be declared valid child care agreement letter. The purpose of writing is directed to determine the legal consequences of divorce on child custody issues and the existence of childcare agreements as a consideration in establishing child custody in the divorce proceedings in the Court. In the discussion, referring to Article 41 letter a of the Law of the Republic of Indonesia Number 1 of 1974, the parties are still obliged to care for and care for children despite a divorce. If a dispute over possession of a child occurs, then it can be resolved through the court. Regarding the childcare agreement proposed by the Plaintiff in the Case in Decision Number 122 / Pdt.G / 2017 / PN Dps and Decision Number 334 / Pdt.G / 2016 / PN Dps, childcare is not appropriate to be contained in the agreement considering that child care and care is an obligation parents. Regarding childcare if needed to be written in a written letter, it should be stated in the statement letter.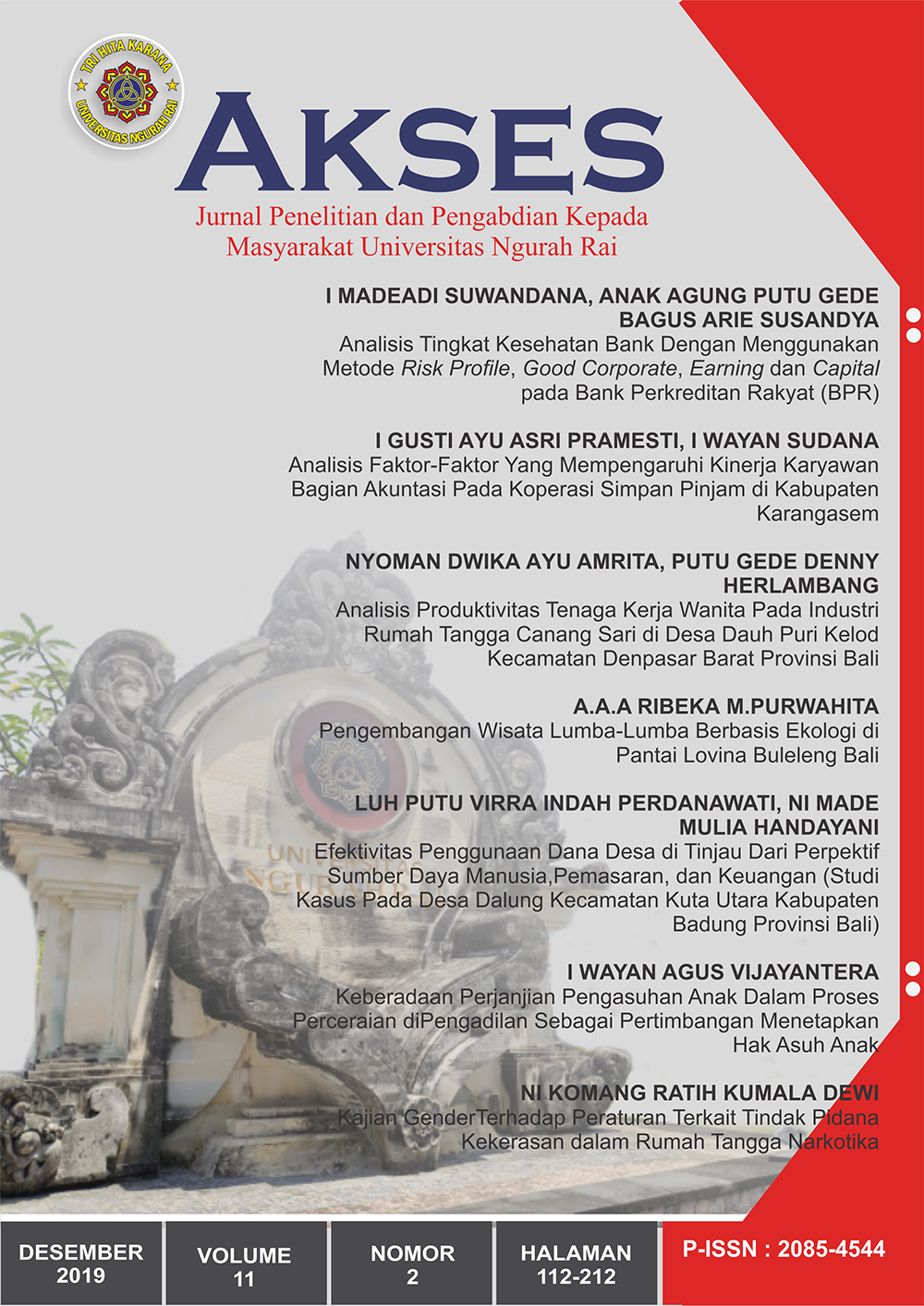 Copyright (c) 2019 I Wayan Agus Vijayantera
This work is licensed under a Creative Commons Attribution-NonCommercial 4.0 International License.
Authors whose manuscript is published will approve the following provisions:
The right to publication of all journal material published on the AKSES journal website is held by the editorial board with the author's knowledge (moral rights remain the property of the author).

The formal legal provisions for access to digital articles of this electronic journal are subject to the terms of the Creative Commons Attribution-ShareAlike (CC BY-SA) license, which means Jurnal of AKSES reserves the right to store, modify the format, administer in the database, maintain and publish articles without requesting permission from the Author as long as it keeps the Author's name as the owner of Copyright.

Printed and electronically published manuscripts are open access for educational, research, and library purposes. In addition to these objectives, the editorial board shall not be liable for violations of copyright law.

Abstract viewed = 55 times

downloaded = 35 times