PENGARUH INTERAKSI MASYARAKAT DALAM BEKERJANYA SISTEM PERADILAN PIDANA INDONESIA
Ni Komang Ratih Kumala Dewi

Fakultas Hukum Universitas Mahasaraswati Denpasar
Keywords:
Law Enforcement, Criminal Justice System, Society
Abstract
The process of law enforcement is a system with Police, Attorney, Court, Advocate, and
Penal Institution as sub-system known as criminal justice system which work together in synergy
and integrated to achieve goal of criminal justice system. Law enforcement is not an independent
activity, but has a close mutual relationship with the community. Society is basically a social
organization that is always moving and changing. Society as a social system is a place for its
members to connect and meet the needs of his life. Relationships that occur between them in
order to meet the needs of life can run orderly with the support of the existence of norms that
deliberately made to uphold certain order. law has been embedded within the community and in
the process of socialization among legal community becomes a very decisive factor to regulate
society. The law enforcement process depends not only on law enforcement officials who carry
out law enforcement duties but also requires participation and community participation. Law
enforcement that should provide a sense of justice, create a sense of deterrence and provide
legal certainty for the justice seeker is only used as a tool for law enforcers to enforce the
law solely by ignoring the reality that occurs in society. Finally, people do not trust the law
enforcement process conducted by law enforcers.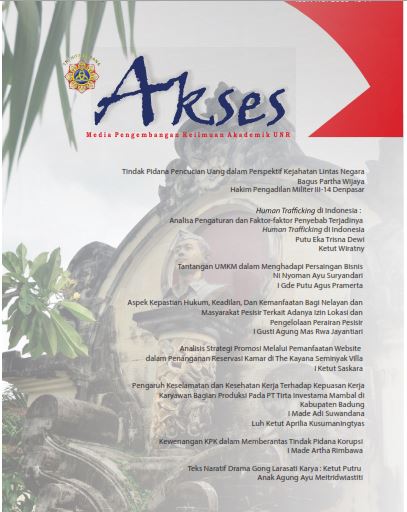 Abstract viewed = 55 times

downloaded = 6 times