KESEPAKATAN UNTUK MELAKUKAN PERCERAIAN DITINJAU DALAM PERSPEKTIF HUKUM
I Wayan Agus Vijayantera

Fakultas Hukum Universitas Mahasaraswati Denpasar
Keywords:
Mariage, Divorce, Agreement
Abstract
Marriage is the bond formed by a man and woman in forming an eternal household.
Household life in general can't be separated from the problems that must be faced together
by husband and wife. Disputes can occur in the face the household's problems. Disputes that
are not resolved properly can lead to the journey of home life leading to divorce. In some
Court Decisions on divorce cases, in the lawsuit filed there are points in the posita stating that
the Plaintiff and the Defendant agreed to divorce. Based on that, the purpose of writing is to
analyze the legal basis of the divorce in the perspective of the Law of the Republic of Indonesia
Number 1 Year 1974 and juridical studies in the perspective of civil law against the existence of
an agreement to divorce. In the discussion, the Law of the Republic of Indonesia Number 1 Year
1974 is contained in several Articles as the legal basis governing divorce-related. In principle,
this Law was established to complicate the occurrence of divorce. With regard to a divorce deal
as an excuse for divorce in Court, the agreement is not exactly used as a reason for divorce. The
agreement should be used for the peace of the parties to properly restore the household.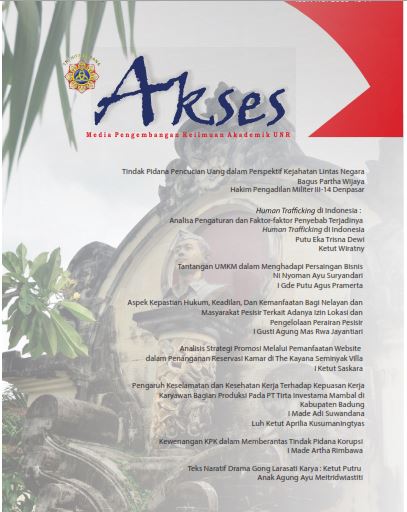 Abstract viewed = 68 times

downloaded = 4 times