PENGARUH ORIENTASI KEWIRAUSAHAAN DAN KOMPETENSI PENGETAHUAN PEMASARAN TERHADAP KAPABILITAS DAN KINERJA PEMASARAN (Studi Pada Industri Bordir Kebaya di Kota Denpasar)
Made Mulia Handayani

Universitas Ngurah Rai

I Nengah Sudja

Universitas Ngurah Rai

I Nengah Suardhika

Universitas Ngurah Rai
Keywords:
entrepreneurial orientation, competency marketing knowledge, marketing capabilities, performance marketing
Abstract
Abstract — This study was conducted based on the gap the previous research (research gap)
and the difference in the focus of discussion on entrepreneurial orientation and influence of
knowledge and competence to performance marketing company capabilities. In addition, there
is also the problem of research (research problem) about the intense competition in the apparel
industry, especially in kebaya embroidery industry in Denpasar.
Some of the factors and the above conditions is very important to investigate empirically
for later analysis, so that practitioners in the garment enterprises can obtain the facts support
that exists in the market, so that the strategies formulated can be more accurate. This research
was conducted by taking the object of research on kebaya embroidery industry in Denpasar
totaling 52 companies with elements of the population that is the owner / manager of marketing.
Sampling technique used is purposive sampling. The number of respondents defined as the
study sample was 52 people. Technical analysis is used to analyze and interpret the data in this
research is Structural Equation Model (SEM) using PLS.
From the results of hypothesis testing proved that the entrepreneurial orientation and
competency factors marketing knowledge into positive and significant effect on the marketing
capability, but the effects of entrepreneurial orientation and competence marketing knowledge
to marketing performance is not significant.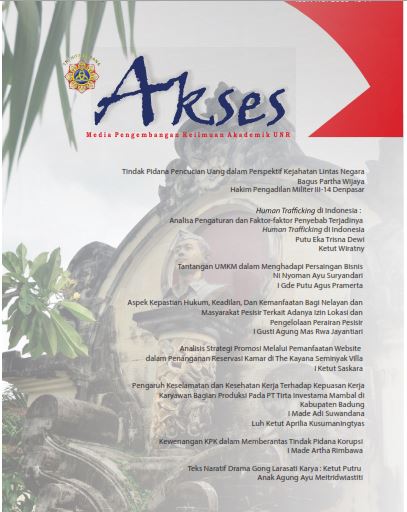 Abstract viewed = 170 times

downloaded = 28 times